Mental Health & Wellbeing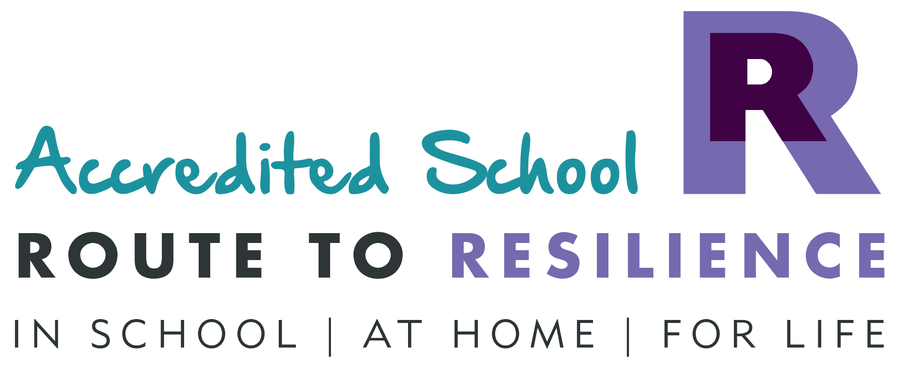 What is Route to Resilience?
Route to Resilience is an evidence-based and practical approach to supporting schools and families in their work developing the character, resilience and emotional wellbeing of children and young people, funded as part of the local NHS Future in Mind programme.
It is based on nationally recognised and locally piloted strategies that integrate with existing curriculum / school routines / requirements and is designed to address two of the key priorities from the Department for Education's current strategic plan through to 2020.
Schools work together in cohorts of 10 to 15 and attend a total of 10 half-day training sessions over the course of an academic year.
Six sessions are delivered by Wellbeing Education. These sessions develop schools' existing work on character, values and growth mindset and share practical, effective, innovative and inspirational ideas for use throughout the school. The strategies have been shown to be high-impact and low-workload, creating enthusiasm amongst pupils, parents, and staff alike.
Four sessions are delivered by the Centre for Fun and Families for school staff that interact with parents. These sessions inform and equip school staff with the necessary skills and materials to plan and deliver parent / carer engagement activities. Schools choose to run an event focusing on their school's resilience work and encouraging the use of techniques and character words as a shared home / school vocabulary to support resilience at home.
Every session includes elements of training / review / resources. Schools commit to using the training materials to lead staff development and run workshops for parents between sessions to help them achieve the aims of the whole-school approach. Every school receives evaluation tools to evidence the impact of the work as the programme progresses.
What Does Route to Resilience look like at Catherine Infant School?
Catherine Infant School staff have chosen 19 character words, words that represent positive character attributes that enable pupils to cope with many situations at school, in their learning and in their future lives. Pupils call these words the character muscles.
What are the 19 character muscle words?
Resilience Independence Creativity Confidence Self Esteem Curiosity Love of Learning Kindness Courage Perseverance Respect Motivation Team Work Optimism Appreciation Enthusiasm Communication Gratitude Friendship
How is the programme delivered at Catherine Infant School?
Every two weeks, in our Thursday celebration assembly, the children are introduced to a new character muscle word. The word is explained to the children, what it might look like in school and how the children might use this character muscle. Children receive certificates in assembly praising their achievement and effort in showing or using the character muscle of the week.
The new character muscle word is displayed in each classroom and at various strategic points around the school to remind pupils and staff. The character muscle vocabulary displays build throughout the terms.
Staff and pupils apply the character muscles to all aspects of school life - to teaching and learning, to behaviour, to play, to their treatment of others and to home life. Route to Resilience and the character muscle vocabulary are included in the Behaviour Policy.
Staff are kept informed and up to date with the programme by Route to Resilience staff champions - Mrs Harrold and Miss Walters in EYFS.
Positive impact of the programme can be seen and heard throughout the school. Pupils buzz with the new word as soon as it is introduced. The character muscle vocabulary has become an every day part of Catherine Infant School life for both staff and pupils.
Quotes from Pupils:
Year 2 pupil, after having difficulty climbing a tall tree stump at Forest School: " Look Miss Harrold, I climbed that tree in the end. That was because I used resilience, didn't I?"
Year 1 pupil conversation whilst struggling to cut out neatly and carefully: "Oh no, I won't be able to do that - I'm no good at cutting out." " You have to keep on trying and trying again and then you can do it, that's resilience."
Reception Pupil: "Look Miss Harrold - I'm doing teamwork to everybody today!"